South Australia DVA office information
We welcome visitors to our Adelaide office.
Accessible car parking arrangements are available nearby.
How to reach us
You can visit our office in Adelaide Monday to Friday from 8:30 am to 4:30 pm.
Our location
Level 10 Westpac House
91 King William St
Adelaide SA 5000
Our phone number
You can call us on 1800 VETERAN (1800 838 372) during office hours.
Our mailing address
GPO Box 9998
Brisbane QLD 4001
Where to park
Paid parking is available at UPark Topham Mall,
52-54 Waymouth St
Adelaide SA 5000
The car park is 130 metres from Westpac House.
You can find accessible lifts in UPark and Westpac House.
The lifts in both UPark and Westpac House are wheelchair accessible.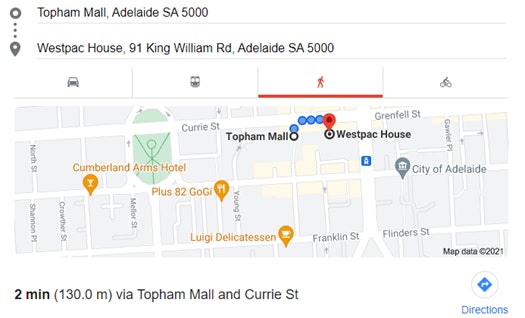 Who can get a parking permit
SA residents who hold an SA Disability Permit can apply for a UPark Accessibility Pass.